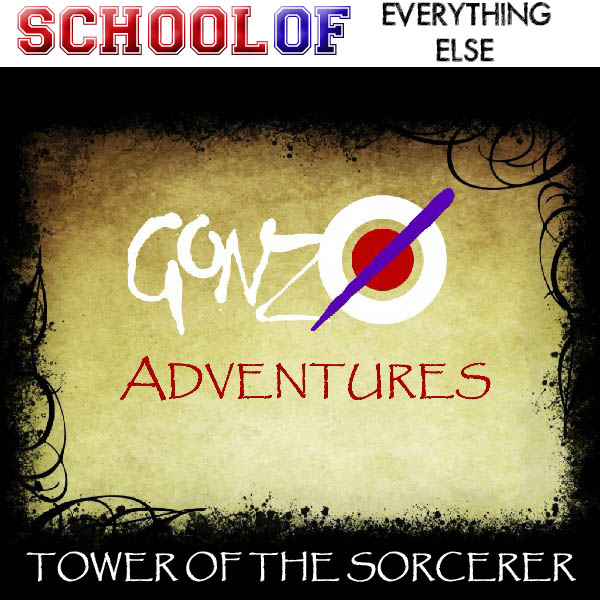 [Digital Gonzo 2013]
The 150th episode of Digital Gonzo.
This was a one-off show inspired by the episode of Community 'Advanced Dungeons & Dragons'. It's a sit-down gaming session conducted over Skype with myself as Dungeon Master and my guests as a team of adventurers. For this one we were using the flexible, simple ruleset of Advanced Fighting Fantasy by Graham Bottley which itself stems from the gamebooks of Steve Jackson and Ian Livingstone (The Warlock of Firetop Mountain, Deathtrap Dungeon) and detailed in the starter book Dungeoneer. This is the first of the two adventures within that book.
I wanted to bring you guys something different, in the style I have honed over the years so there's music and sound FX as well as a hefty chunk of silliness and getting into character. The lengthier fights have been edited for pacing but you're mainly missing a lot of dice rolls. The team that begins this story comprises of the following.
Thrale Copperhelm: A tough-as-nails dwarf, played by Neil Taylor of GameBurst
Lastern Darkfire: An elf fresh out of the forests, played by Mark Reay of The A.I. Bots
Kellis Payge: A human mage from the city watch of Chalice, played by Sharon Shaw of School of Movies
Harron Brondyn: A sarcastic thief played by Matt Ramsey of Do Try This at Home
Focus is on character and story over action and complex systems, almost closer to an audio drama than the recording of a game. The guest soundtrack for this week is the original World of Warcraft OST by Jason Hayes, Tracy W. Bush, Derek Duke, and Glenn Stafford. Many thanks to my guests, who played brilliantly and went easy on me in my first-time role as Dungeon Master. The combat rules were still being learned by all of us, also Gonzo is an adult podcast and we use adult language in this. 
And thank you all for making this one of the warmest, smartest, funniest communities on the internet for 150 episodes of Gonzo.